How We got Started
---
In early 2005, Gus Wedemeyer collected some of the best swing and jazz musicians he knew to do a benefit dance.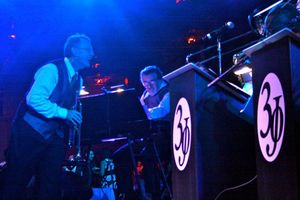 The gig was a huge success and the group had such a good time they decided to stay together.  Gus named the group 3 O'Clock Jump in tribute to tunes made famous by Count Basie (1 O'Clock Jump) and Harry James (2 O'Clock Jump). 
3OJ is a classic Big Band configuration of 5 saxes, 4 trombones, 4 trumpets, and a 3 man rhythm section with male and female vocalists.   
Led by Gus, here is the lineup!
---
Saxes  
Mike Wilson

Michael Wirgler

Tony Gallardo

John Axzon

Jerry Swiatlowski
Trombones
Steve Leathers

Adrienne Chambers (featured on French Horn)

Lee Siegel

Ed Rosenbaum
Trumpets
Domingo Cariaga

Eddie Catihanan

Richard Conway

Sam Lind
R
hythm
Bill Swanson, Drums   

Len Rogers, Piano, Accordian and Vocals  

Rod Verette, Bass 

Laura Brady, Vocals and Piano